Start Your Journey
The decision to get help is rarely an easy one. So, if you or a loved one are in the place where you want to change your life, our entire Quantum team applauds you for making that tough decision.
Now, the best next step is to reach out.
When you do, you'll be connected with a member of our Quantum team who can help you begin your recovery journey. After that you'll complete your intake consultation, meet your care team, and begin receiving the support you need to make your recovery a reality.
What's it like to seek help with Quantum?
Your Initial Call
We'll gather some basic information about you and take your insurance information so our insurance team can verify your benefits right away.
You'll speak to one of our staff members so that our team can identify the next steps that are right for you.
After that, we'll discuss those next steps so we can get you care as soon as possible.
Your Intake Process
Facility Intake
Before you enter our care, you'll take a COVID-19 prescreening and work with our team on some initial assessments.
You'll meet your care team and get your schedule as you pick up your welcome packet and get acquainted with the facility and the community.
As they are a central part of your recovery, your family will also have some paperwork to review and sign as you go through this process, and our team is here to answer their questions as well.
We begin to plan for life after treatment from day one. Our team works to make sure that services like supportive housing, financial assistance programs for transportation, and even treatment for medical needs are considered and addressed according to your unique needs.
We don't provide these services but we connect you with those that do and we keep you connected with our network of top-tier care providers so that your care is consistent and you continue to thrive beyond our doors.
Your Care Team
Your care team is made up of licensed staff members including Licensed Clinical Alcohol and Drug Counselors (LCADCs), Clinical Alcohol and Drug Counselors (CADCs), Licensed Clinical Social Workers (LCSWs), master's level clinicians, psychiatrists, and Advanced Practice Nurses who, along with your primary therapist, support you as you go through your recovery process. Your primary therapist creates a treatment plan that evolves with you as you reach goals and milestones along the way.
Whole-person Support
In addition to our more traditional therapeutic services like counseling and groups, we offer a variety of other ways to promote your own personal healing journey.
These approaches include:
Holistic Well-Being Techniques: From nature walks and breathing techniques to yoga and meditation, these supportive activities allow you to quiet your mind and care for your body at the same time.
Music Therapy: Sometimes your mind doesn't crave quiet. So, music therapy helps you regulate your heart rate, manage anxiety, and create peace in those moments as well.
Pet Therapy: We offer the opportunity to work with service animals as another way to support your well-being. There is a soothing and calming effect to establishing a connection with an animal that can help you to integrate both your mind and body into the healing process. Petting, caring for, and simply spending time with a kind, loyal, and loving pet can help us to connect with those same parts of who we are at our core that we may have lost along the way as well.
Sports and Physical Activities: At Quantum, we use outdoor activities as part of our therapeutic approach when it's a great fit for you and your treatment plan. The added benefit? Feeling more comfortable in your own skin can shift your mindset for the day and regular physical activity can help you to regulate emotions and process them more effectively over time.
Guest Speakers and Meetings: We welcome experts in recovery to speak and offer daily AA/NA daily outings so you can become a part of a larger recovery community that, like our Quantum team and your loved ones, is fully invested in your sustained sobriety and recovery.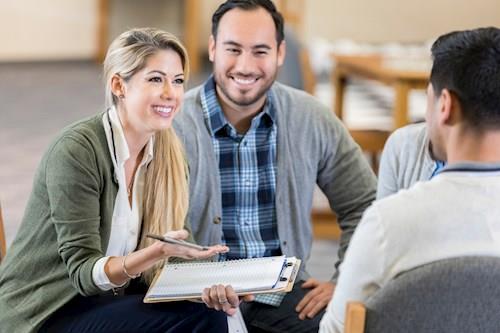 We Support Your Recovery

Beyond Our Doors

Recovery is a lifelong journey and we support you every step of the way. After treatment, you'll always be a part of our Alumni Group which welcomes you to take part in alumni events we hold and we'll continue to stay in touch with you as you grow and evolve.
Verify Insurance
Want to verify your insurance before you get started?
Complete this form and hit "Submit" when you're done. Fields marked with an asterisk (*) are required.