Drinking alcohol can be highly pleasurable. People can often lose inhibitions, feel more relaxed, and generally have a good time consuming most kinds of alcoholic beverages. Unfortunately, it is also possible for people to drink too much or to become addicted to the substance if drinking continues over an extended time.
Alcohol addiction causes problems in the life of an alcoholic. People might find that they cannot stop drinking on their own, even though they are well aware that this is causing problems in their professional and personal relationships. It can also be dangerous for an alcoholic to continue drinking heavily while caring for children or driving a car.
These types of decisions made while under the influence can cause serious damage to another person or threaten your safety and welfare. Alcohol addiction treatment in a professional facility is designed to help individuals overcome these problems and return to healthy, rewarding lives where they do not need alcohol for any reason.
Outpatient Alcohol Addiction Rehab Different Location
You Can Check Our Other Services
Inpatient and Outpatient Treatment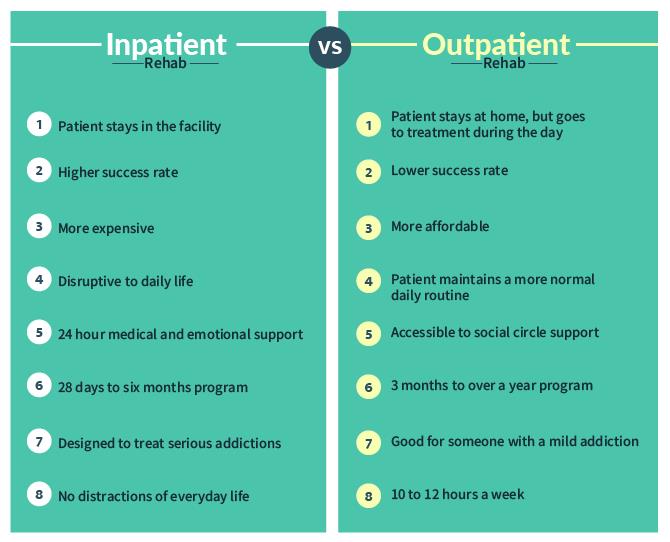 Alcohol dependence can be classified as mild, moderate, or severe, and the type of treatment that is best for you depends on where you fall on that scale. If your alcohol addiction symptoms are not severe, you may be able to get therapy for your alcoholism on an outpatient basis.
Outpatient alcoholism treatment is a type of therapy that may be the most acceptable option for someone who wants to stop drinking but cannot give up their responsibilities, such as employment, school, or child care. It could be a good fit for you if you have a solid social life and good physical and mental health, as well as strong family support and a solid motivation to quit drinking.
Outpatient alcohol rehab is not for everyone, though. If doctors and nurses would highly monitor you, or if your life circumstances make it impossible for you to abstain from drinking during treatment, then outpatient alcohol treatment might not be the best choice for you.
Who is Outpatient Alcohol Rehab for?
Outpatient alcohol rehab can be a good option for people suffering from mild to moderate signs of alcohol addiction, especially if they do not need the intense monitoring that an inpatient program entails. Outpatient treatment is also ideal for anyone who cannot take time off of work, school, or other responsibilities to stay at a treatment facility for an extended period.
Outpatient rehab is not recommended for those with severe alcohol addiction symptoms (including hallucinations and delirium tremens, or DTs) and those who cannot abstain from drinking throughout their treatment. It's best suited to people who can adjust their schedules to allow regular therapy sessions.
Who is Outpatient Alcohol Rehab NOT for?
As mentioned above, outpatient alcohol rehab treatment is not suitable for those who cannot drink responsibly during their treatment. It typically includes registered sex offenders and anyone whose profession demands that they be sober at all times (such as bus drivers). It may also not be the best choice for those ordered by a judge to attend rehab as part of a court sentence.
In addition, those with severe alcohol addiction symptoms should consider an inpatient facility instead, as outpatient therapy does not provide around-the-clock monitoring and medical care. Those with other mental health concerns, such as schizophrenia or bipolar disorder may also need to be monitored around the clock.
When Should You Consider Outpatient Alcohol rehab?
Some people may drink moderately or just on special occasions, even though they have an alcohol problem. Others may find that they cannot quit drinking even when it leads to severe problems in their lives. When a person loses control over drinking and exhibits symptoms of an alcohol use disorder, which is the medical name for alcohol addiction or alcoholism, it's time to look into outpatient alcohol treatment.
Symptoms of alcohol use disorder include:
Despite causing or worsening health conditions, you continue to drink alcohol.
Continued drinking despite issues in relationships, difficulty fulfilling duties at work or home
When you consume alcohol in hazardous environments, such as when driving while intoxicated, you endanger yourself and others around you.
When you drink more alcohol than planned
You give up other activities to drink alcohol.
What is Inpatient Treatment?
Many people feel that they cannot go to a recovery center for help because of the extended time required to stay there. Fortunately, it is possible to receive treatment for alcohol addiction through an inpatient program.
This type of facility allows you to check into a professional recovery center and be admitted simultaneously so that you can begin treatment immediately. You will be allowed to remain there for anywhere between 30 days and 90 days, with the average stay being about 60-90 days. During this time, you will regularly attend individual counseling sessions and group therapy sessions.
The therapists at these facilities are trained in addiction medicine and will offer sound advice and help. You will learn how to live a sober lifestyle as you attend therapy sessions and participate in activities such as yoga, meditation, and more.
The combination of individualized counseling and group therapy sessions means that addiction treatment is comprehensive and begins on the first day you arrive at this type of facility. This is not a slow process where you will be told that recovery is a long process and takes your time.
Inpatient treatment for alcohol addiction begins right away, and there are no delays in beginning the recovery process. This is why it is important to take this process seriously and commit to living a sober lifestyle when you check-in. As previously mentioned, you should expect to attend intensive therapy sessions regularly while living at this type of facility.
Inpatient treatment for alcohol addiction is designed with the specific goal of helping individuals live happy, productive lives free from any drug dependencies. This can be accomplished by utilizing various types of therapy throughout a typical stay at a recovery center.
The Benefits of Going to Inpatient Rehab for Alcoholism
Alcoholism is a severe illness that requires professional help and treatment. People who suffer from the disease of alcoholism need to find an inpatient rehab center that can treat their addiction.
There are many benefits associated with attending an inpatient treatment program for alcohol addiction. Some of these benefits include:
• Faster recovery time
• Treatment for both the physical and emotional effects of addiction
• 24/7 care
• Access to a variety of therapies
• Being able to leave the environment that created or encouraged your alcohol addiction in the first place
All of these benefits can help people who suffer from alcoholism recover faster. Inpatient rehab facilities offer a variety of therapies that can help you recover from your addiction more quickly.
People can choose from several different types of therapies when attending an inpatient rehab center. Individual counseling involves one-to-one sessions with a therapist who will help you work out problems that you are currently experiencing.
Group therapy allows people to join together in sessions and get the support they need from others who are also recovering from alcoholism. This can be very beneficial because group members develop new ways to stay sober together.
When attending an inpatient treatment for alcohol addiction program, you will also be given medications to help with any withdrawal symptoms that you may experience.
It is vital to find an inpatient rehab center where you can stay sober and learn how to live healthy without drinking or using drugs again. The program's cost will vary based on your level of care and the length of stay.
Is inpatient treatment better than outpatient rehab?
If you wonder whether inpatient treatment for alcohol addiction is better than outpatient rehab, the answer will largely depend on the person. Some people would benefit from an extended stay at a recovery center due to their inability to stop drinking.
However, most people with alcoholism can be successfully treated through outpatient care and do not require extended periods of living at a recovery facility.
To determine if an inpatient program is a good idea for you, you must discuss your concerns and questions with a professional therapist before making any commitments. They can help point out some of the advantages of this type of treatment over outpatient care to help you make the appropriate decision.
Inpatient treatment for alcohol addiction will be a rewarding experience if you can commit to doing the work necessary to live a sober lifestyle in the future. It is not a quick fix by any means, but it does eventually lead to sobriety when you follow all of your therapist's advice and attend every session as recommended.
Why People Choose Outpatient Alcohol Addiction Rehab?
Outpatient alcohol treatment allows you to go home each day. Inpatient care necessitates that you live in a treatment center while receiving treatment. As a result, many people prefer the flexibility of outpatient therapy.
Outpatient alcohol treatment is the next step for some individuals after undergoing an inpatient alcohol detox or treatment program. If you're at this part of your alcoholism cure, outpatient therapy can assist you in transitioning back into everyday life without relapsing.
If you choose to get alcohol treatment as an outpatient, it is also an excellent alternative for telehealth services. If you wish to use telehealth services to reach your objectives, consider these points:
If you live too far away from an outpatient alcohol treatment program, it's unlikely that you'll be able to maintain your sobriety.
You don't have a way to get to the facility.
If you can't go to regular appointments.
The severity of your addiction, surroundings and medical detox's importance will influence whether you should get outpatient alcohol therapy.
How Does Outpatient Treatment Work?
While you recover from your addiction, it does not mean you must forgo your responsibilities at home, at work, or in school. Enrolling in an outpatient alcohol treatment program allows you to get the support and direction you require on a part-time basis that suits your lifestyle.
Alcoholism is a highly personal sickness that comes with various treatment alternatives. To see whether outpatient alcohol therapy can assist you in maintaining long-term sobriety, learn everything you can.
It is dependent on the program. You may locate this sort of addiction therapy in a variety of outpatient treatment programs, including:
Substance abuse counselors' offices
Hospitals
Mental health clinics in your community
In-house treatment centers
Inpatient alcohol treatment is not the same as outpatient treatment. In general, there are three sorts of these programs:
Standard Outpatient Treatment Program: Individual sessions, group therapy, and individual counseling are all options. Meetings are typically held once or twice each week.
Intensive Outpatient Program (IOP): You attend a treatment facility three to five times each week for three to four hours at a time. An IOP is far more intensive than a standard outpatient alcohol program. Family therapy, individual therapy, group therapy, and medical management may all be provided when needed.
Partial Hospitalization Program (PHP): A PHP is a three-step program involving medical intervention for up to six weeks. It generally requires treatment four to six hours each day for three to five days each week. It provides comprehensive outpatient assistance, often including medical services, individual, group, family therapy, and prescription management.
Another advantage of outpatient treatment is that it allows you to apply what you've learned straight away every day when you return to your routine.
Alcohol Addiction Treatment Options
According to the National Institute on Alcohol Abuse and Alcoholism, one-third of those treated for alcohol abuse have no subsequent symptoms a year later. Many people significantly cut back on their drinking and report fewer alcohol-related problems.
The first step is to speak with your health care provider, who can assist you in determining which therapy is best for you, whether outpatient treatment or inpatient treatment.
It would help if you also thought about your treatment environment. Both inpatient (residential, at a facility) and outpatient (staying at home during therapy) therapies are accessible. It is dependent on an individual's specific circumstances, such as money and child care.
Behavioral treatments
Behavioral treatments for alcohol use disorder, also known as alcoholism counseling, are designed to find and change the actions that lead to excessive drinking. These include:
Cognitive-behavioral therapy (CBT) -CBT for alcohol use disorder focuses on the thoughts and circumstances that cause you to overdrink, as well as the stress that might trigger a return. It adjusts the way you think about things and teaches you how to deal with triggers. CBT for alcohol use disorder may be done in a group or one-on-one with a therapist.
Motivational enhancement therapy (MET) – Motivational enhancement therapy is a brief yet intensive treatment that aims to enhance and strengthen motivation to change drinking habits. The therapy focuses on assessing the benefits and drawbacks of seeking help, devising a strategy for changing your drinking behavior, developing confidence, and learning the necessary skills to follow through with the plan.
Marital and family counseling – Support from family members can assist you in maintaining sobriety. Spouses and other family members are frequently included in this type of therapy.
Brief interventions – Short counseling sessions one-on-one or in a small group. The counselor gives you specific feedback on your drinking habits and helps you set objectives for altering these behaviors.
Medication for Addiction Treatment
Outpatient alcohol addiction rehabilitation may also involve medications prescribed by health professionals to help stop or reduce drinking. These addiction treatment medications also prevent relapse, and they can be used alone or in combination with counseling.
The three common medications approved for addiction treatment are:
Naltrexone – Also known as Revia, this drug works by blocking the effects of drinking. It is generally taken daily as a pill or liquid form and has reduced heavy drinking and relapse rates in those with alcohol dependence.
Disulfiram – Also known as Antabuse, disulfiram prevents your body from metabolizing alcohol properly so that drinking produces highly unpleasant effects, such as nausea and vomiting. This drug can also help you avoid alcohol cravings that lead to relapse.
Acamprosate – Brand name Campral, acamprosate is thought to reduce the risks of heavy drinking by stabilizing brain chemistry. It works to balance chemicals in your brain related to stress and anxiety that can lead to drinking or stopping drinking.
Other medications may be developed based on the wealth of information generated by studies like this one. Future AUD treatment breakthroughs might be achieved through further research into alternative medicine. Anti-epileptic drugs such as topiramate, according to research, appear to be helpful.
Mutual-support Groups
Mutual-support groups, such as Alcoholics Anonymous (AA), can be essential aftercare. These organizations provide vital peer support to help you quit drinking.
Alcoholics Anonymous is a worldwide group that provides abstinence from alcohol as the only requirement for ongoing membership. Other groups, such as LifeRing, focus on a supportive approach to abstinence based on each member's choices and needs.
Counseling and support groups can benefit those with comorbid conditions – which often accompany alcoholism – such as depression, an anxiety disorder, or other mental health conditions.
Advantages of Outpatient Alcohol Addiction Rehab
There are several advantages to going through outpatient rehabilitation. Here are a few of the most important:
Affordability – Rehabilitation facilities vary in pricing due to the various services and amenities. On the other hand, outpatient rehabilitation is typically less expensive than residential rehabilitation since you utilize fewer services and amenities while not being confined to a facility.
Flexibility – Outpatients must check in to the treatment facility for a set number of days and hours. On the other hand, inpatient rehabilitation entails considerably less liberty than inpatient care.
Ability to See Your Family -Outpatient treatment programs allow you to stay at home and see your family. Because family provides many people with the love and support they need to get through rehabilitation, it is essential for the therapy process. It also allows people who cannot locate suitable alternative care for their family members, such as children or elderly parents, to continue caring for them.
Disadvantages of Outpatient Rehab
There are also several disadvantages to going through outpatient rehabilitation:
Difficulty Following Through – Without a formal structure and the support of others, it may be difficult for addicts to follow through with their treatment. IT is especially true if they suffer from severe withdrawal symptoms or other serious side effects of alcoholism.
Distractions – Many individuals are far too relaxed when they are at home, which can divert them from their goal of cleaning themselves. Drug connections are not that distant, and the inclination to give in might be quite challenging to combat.
Limited Access to Medical and Clinical Support – An Inpatient program allows you to access medical and clinical assistance 24 hours a day, seven days a week. It's more challenging to interact with your counselor, therapists, case managers, and doctors when you're at home. Patients might not receive the attention they need to stay on track.
Reduced Supervision – Patients are generally watched by a medical practitioner 24 hours a day, seven days a week in an inpatient program. It ensures that patients are secure and sober. Patients in outpatient programs are more likely to succumb to temptation since they receive less monitoring.
Tips to Succeed on An Outpatient Alcohol Addiction Rehab
You will go to alcohol rehabilitation when you know, and you might be concerned about the future. These sentiments are natural. Why? Because at this stage in your life, you're at a crucial turning point: your first significant step toward sobriety.
When you start your outpatient rehabilitation, you will religiously follow your visiting schedule and comply with the guidelines set by your case manager. You'll participate in therapy and counseling sessions, exercise, and other therapeutic activities such as meditation. Here are five simple tips to help you succeed in your endeavors.
Tip #1: Focus on Little Goals
If you're confronted with remaining sober for the rest of your life every morning, you'll be overwhelmed right away. Please start with the little things you can do to achieve your goal; they will help you stay clean.
For example, you may recognize that today is not a good day to drink. What are some other things you could do to be more productive instead of drinking? It doesn't have to be big; it might be as simple as making your bed or eating a nutritious breakfast.
You may choose to tackle a more significant project, such as updating your resume or identifying five job possibilities. Always keep a modest, achievable aim on your to-do list. One little objective might help you stay motivated and elevate your spirits throughout the day.
Tip #2: Build a Support Network
During alcohol rehabilitation, you build connections with individuals you meet in group therapy who are also on the road to recovery. Your counselor and psychotherapists will give you insight, tools, and resources to help you keep going.
Family and friends are also part of your network, ready to assist you when you need someone to talk to.
Tip #3: Engage in Something that Uplifts You
A photograph of your family or a stunning location in the world that you'd want to visit might encourage and inspire you while you work through your problems. During your rehabilitation, anything that allows you to progress in sobriety keeps you enthusiastic, and your attitude optimistic will assist you in making rapid progress toward sobriety.
Tip #4: Don't Expect to Want Sobriety All the Time
Whether you want to be sober or not, you will occasionally experience sadness or be emotionally disconnected during rehab. When you feel down or emotionally detached, the notion of relapse may appear appealing and desirable. That sensation is natural and understandable. Everyone has felt this way at some point.
The essential thing is that you be genuine about your emotions. Be honest about the ideas and desires linked to your addiction. Share what's going on with your support network with those around you.
You may be experiencing these emotions as a result of your addiction. It doesn't imply you must act on them just because you have them. Even after rehab, you will continue to receive aftercare treatment. Addiction is a progressive disease that necessitates continued therapy.
Tip #5: Get Referred for Aftercare Treatment
Ensure that you have local referrals before you finish your outpatient alcohol addiction rehabilitation to assist you in continuing your therapy aftercare. If acupuncture or acupressure has helped you, look for an acupuncture clinic near your home specializing in alcohol addiction and abuse. Get a recommendation for a local therapist, 12-Step groups, and support groups who can help you.
When You Need Help
If you're not sure if you have a drinking problem, but your spouse or family says you do, ask yourself if the following apply to you:
When alcohol isn't accessible, I get anxious.
Feel like you're obligated to have a drink.
You might not be able to control how much you drink
Drinking more than you planned on is common.
Guilt or shame about your drinking
When you're intoxicated, it's easy to forget everything you've done.
The amount of alcohol you consume is less significant than how it affects you. It's time to seek assistance if your drinking habits are causing problems in your life.
Things to Consider When Choosing a Method of Treatment
Selecting the proper facility for an outpatient alcohol addiction rehab program is critical. Each program has its benefits and drawbacks, and some are more suitable than others. Here are some factors to consider when selecting the finest center for you:
Do They Specialize in Your Substance Disorder?
Most rehabilitation clinics treat alcohol and other typical drug abuse problems. Make sure they specialize in, or at the very least treat, your specific addiction.
How Intense Is the Program?
If you must come in every day and some things can't be put off until after therapy, that program isn't for you.
Determine what the average duration of therapy is for the treatment you require. If you can't commit to what they're offering, you might feel overwhelmed and give up entirely, which is precisely the opposite of your goal.
Do They Accept My Insurance?
Rehabilitation might be costly, and insurance coverage may make a significant difference. Learn about the program's expenses and whether your insurance will pay for it before signing up.
Will My Treatment Providers Be Easily Available?
Committing to an outpatient treatment program entails not having access to your doctor, therapist, and other service providers 24 hours a day, seven days a week, as you would if you were in an inpatient facility. Support is crucial. When patients return home after the day's therapy session, look into how treatment providers communicate with outpatients during emergencies and after hours.
Do They Have a Good Reputation?
The best way to find out if a facility is suitable for you is by asking around and checking online. If possible, ask people that have been through similar treatment programs like you. For example, if you're an adult with mild addiction problems, visit the facilities they recommend rather than telling an adult with more severe addiction problems that you're seeking help. It will help you get the best rehab experience possible.
Choosing an Alcohol Rehab That Is Right for You
If you can't devote your whole time or financial resources to an inpatient program, outpatient treatment may be best for you. At the same time, you may still fulfill your responsibilities at home, go to work, and get clean.
Talk to your loved ones and support groups regarding your alcohol use and get help if you need rehabilitation.