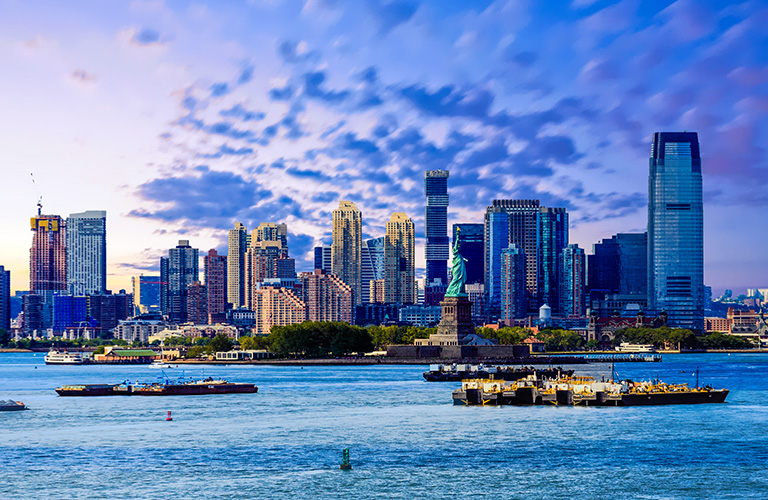 Our facility is a warm, inviting, cozy, and secure environment that provides the perfect level of safety, comfort, and privacy as you receive treatment and get on your path to wellness. We've designed our space to allow for a low-stress environment where you can focus on your well-being.
Given the concerns of the COVID pandemic, we're ensuring procedures are followed to create a clean environment for our patients, staff, and visitors. We've gone above and beyond CDC and New Jersey State guidance to design our cleaning and disinfecting protocol so that there is no question of the cleanliness and safety of our facility.
You're here to get well and our priority is maintaining a safe, clean, peaceful, and welcoming environment for you to do just that.
To see our response to Covid-19, click here.
Photo Gallery
Click photos to enlarge
Are You Ready to Begin
Your Journey to Recovery?
You could be completely covered. Verify Your Insurance Today.
The Quantum
Process
Outpatient Rehab NJ
2. Complete
Your Intake
This streamlined process includes a series of questions and discussion of your unique needs and goals.
3. Get the Best Care Team Possible
After your intake, you'll meet your Care Team, a group of amazing professionals dedicated to helping you make recovery reality.
4. On-Going Support
After you meet your Care Team, you'll start to receive treatment based on a Care Plan that's designed to help you achieve and sustain your recovery.
The Quantum
Process
Outpatient Rehab NJ
2. Complete
Your Intake
This streamlined process includes a series of questions and discussion of your unique needs and goals.
3. Get the Best Care Team Possible
After your intake, you'll meet your Care Team, a group of amazing professionals dedicated to helping you make recovery reality.
4. On-Going Support
After you meet your Care Team, you'll start to receive treatment based on a Care Plan that's designed to help you achieve and sustain your recovery.
Highest Rated Alcohol Detox Program
Detoxing from alcohol is not an easy task, and should never be attempted at home, especially not quitting cold turkey. Alcohol addiction can cause extreme brain chemistry changes that can lead to severe withdrawal symptoms if medical professionals are not supervising you. You will likely relapse as soon as you feel the intense alcohol cravings, discomfort, and anxiety associated with alcohol detox.. Your symptoms could suddenly worsen, leading to seizures and delirium tremens.
If you have a history of relapsing, have been drinking for a long time, or have other health issues, you may experience dangerous seizures or delirium tremens, a series of symptoms that include anxiety, fever, hallucinations, confusion, agitation, and death.
Suppose you detox from alcohol in a medically supervised setting. In that case, you will have doctors and nurses around you 24 hours a day and be given medications to ease pain, cravings, and restlessness and prevent issues like high blood pressure, anxiety, and seizures. Counseling and/or therapy, along with professional mental health services, will also be available.
You will stay in a safe and comfortable environment throughout your detox until you are stable enough to move forward in your treatment plan into a residential rehab program or an outpatient program. At Quantum, we offer outpatient procedures for those no longer experiencing withdrawal symptoms.
Drug Detox Program
The first step to any rehab program is usually a drug detox. This is because you will not be able to quit drugs without overcoming the physical dependence first. It sounds obvious, but it is not always as easy as it seems. A person cannot usually just put down the pipe or needle and say, "Ok, that is enough." There are several reasons that people begin abusing drugs, including social reasons, exposure to drugs at a young age, trauma, mental health issues, and even just plain curiosity. Those who develop an addiction likely require care beyond just stopping use. Therapy, counseling, physical health care, nutrition, and exercise programs can all be a part of an integrated detox program.
Top Alcohol Rehab in New Jersey
There are several places to go for residential alcohol rehab in the New Jersey area, but Quantum is the top-rated outpatient alcohol rehab facility. Outpatient rehab is called when you live outside of a rehab facility, either at home or in a sober living home environment, and then come into the treatment center for your program.
People who go to outpatient treatment will not be suffering from their physical withdrawal symptoms and will have their mental illness under control. It is also vital that anybody in outpatient rehab has a supportive place to live that is sober-friendly, if not 100% sober. People ready for an outpatient program have completed their detox program and a 30 to 90-day inpatient rehab program if needed or were unable to enter inpatient rehab due to financial constraints or their responsibilities at home.
Some people are in positions where they cannot miss work or leave home for an extended period without risking custody of their kids, losing a scholarship for college, or losing their job. Family responsibilities are the most common reason a person chooses outpatient care over an inpatient treatment. For this reason, we allow as much family involvement in your healing as you wish, keeping the people you want to be informed on your progress so you can receive as much family support, family therapy, and family information sessions as you need. Providing outpatient options to people in this type of setup may be the lifeline they need to get their life back on track and quit drinking and drugs for good.
We treat the underlying causes of addiction and provide stress-management and coping techniques, relapse prevention, emotional release, and behavioral issues that contribute to addiction. We also have mental health services in our partial care program for people with dual diagnosis. At the Quantum wellness center, our comprehensive approach to treatment provides several levels of care, all of which can be further customized to best suit your individual needs.
Drug Rehab in New Jersey
Quantum in New Jersey has different drug and alcohol rehab types available. Each plan is customizable to you depending on factors like your level of addiction, whether you have a mental health issue, and how much medical oversight you still need after detox. It also depends on the types of therapies you best respond to and what your daily schedule is like. The three main types of treatment programs at Quantum are:
Partial Care (PC)
The partial care program is the most rigorous program we offer, with a minimum of 20 hours each week of treatments and therapy that occur during the day, so you will likely not have a full-time job while in partial care. You will come to the treatment center to receive treatment for your substance use disorder alongside any mental health issues you may be facing.
Intensive Outpatient Program (IOP)
Intensive outpatient care is a more flexible option for people without a dual diagnosis who want to go back to work or school and need to have their rehab treatments in the early mornings, evenings, or weekends. In the Quantum IOP, you will still receive a minimum of nine hours a week of group and individual therapy, with access to other treatments and health care as needed.
Outpatient Program (OP)
Our outpatient program is for people who feel ready to move on from the IOP, but still want to remain connected to the structure and support our treatment center provides. You will receive fewer than nine hours of therapy and treatments, but you will have the option to join 12-step groups in your area and meet up with sober peers. Your comfort and overall progress determine your level of care, and you can always re-join an IOP if you feel you need more structure when times get tough.
Recovery from drug addiction is not always linear, and you may hit a few bumps along the way. That is why a longer-term rehabilitation plan, including outpatient care, is the best way to remain in recovery. We will be there for you with support, care, and strategies to keep you on your recovery journey.
How Much Does Rehab Cost in New Jersey?
When you decide it is time to go to rehab, one of the first things you will look for is the cost. It is not cheap, but your insurance will cover some or even all treatment in many cases, as mental health and addiction services are legally considered essential.
It is important to remember that your life is worth more than anything else, and even if you end up having to pay out of pocket for treatment, it will likely cost a lot less than the medical bills, and spending money on substance abuse will cost you in the long run. You also cannot put a price on quality of life. Regaining control over your mental and physical health, moving into recovery, mending damaged relationships with loved ones, and recovering spiritually from addiction make it worth it.
Contact Quantum to verify insurance coverage, determine how much of your time with us will be covered, or if you want a quote for paying in cash. We will work with you to figure out the best way for you to get the help you need.
How Long Is Detox?
Every person's detox is unique. The timeline of a typical detox is usually between one and two weeks, but it will depend on factors like:
Your metabolism and genetic factors
Which substance you were using
Whether you were mixing that substance with alcohol or other drugs
How long you have been using the substance
How much you were taking each time
Your medical history
Your mental health at the time of detox
Your physical health at the time of detox
How Long Is Rehab?
Depending on the type of rehab you require, you may need 30 to 90 days in inpatient rehab. Once that is through, outpatient treatment plans can be customized to suit your needs and can last for months or even years after detox is complete.
During outpatient rehab, you can live at home and keep a regular schedule, so you do not have to uproot your entire life to get the treatment you need. Some people with mild addictions want to get the basics and get out of there, while others enjoy the structure or have a more difficult time, and they will stay in outpatient care for years. There are psychological, social, behavioral, and spiritual needs that must be addressed in rehab, and everybody will have a customized plan that provides for their unique clinical needs in a welcoming, sober setting.
30 Day (Short Term Rehab)
Short-term inpatient drug rehab in New Jersey is often needed for people who have completed detox but are not ready to move home just yet. In many cases, a structured rehab environment with full days of care and a 100% sober environment is needed for those new to recovery. It will keep you away from the people, places, stresses, and triggers that may cause relapse. Being away for a month can give you time to learn new healthy habits and gain perspective on life and what is most important to you as you work on relapse prevention and coping strategies while healing the roots of your addiction.
Long Term Rehab
Long-term inpatient rehab is often needed for people with co-occurring mental illnesses and addiction, as it can take time (up to six weeks) for psychiatric medication to kick in and start working. People with medical health issues will also want to stay in inpatient care to ensure they stay safe under the watchful eye of medical professionals as they rehabilitate.
People addicted to meth may need a longer time in inpatient rehab due to the issues the drug can cause their bodies and the drug-induced psychosis it may cause. People who have had severe opioid and benzodiazepine addictions will also usually need a longer time in inpatient rehab because of the prevalence of rebound withdrawal symptoms. You will not only be away from temptations for a longer time, but you will also have more time to pick up and practice relapse prevention strategies before you need to put them to use in real life.
Additional Therapies & Addiction Treatments Available
Because we are an integrated treatment center at Quantum Behavioral Health, we believe that working on the whole person is the key to treating addiction. Alongside scientifically proven western medicine and traditional therapy approaches like cognitive behavioral therapy, we also provide meditation, yoga, art therapy, and music therapy.
Does My Insurance Have Coverage for Rehab?
If you have health insurance, then it will cover some, if not all, of your addiction treatment. It depends on the insurance company, your policy, and the treatment center you enter. At Quantum, we can help you determine if you have insurance coverage or if you will need to pay out of pocket and can provide you a quote if you wish. We will work with you so you can get the help you need, plan your treatment, and understand the costs.
MAT
A medically assisted treatment (MAT) program for drug detox in New Jersey is the best program to help you stop using drugs. Along with 24-hour medical care and other treatments provided according to your needs, you will also have access to prescription medications like buprenorphine, methadone, and naloxone to help stop drug cravings, with other medications to keep you comfortable as withdrawal symptoms begin. These FDA-approved medications will not create a new addiction, and your progress will be monitored day and night. If any medical emergency arose, a doctor's care would be available immediately.
Medical detox is not where rehab ends; it is only the beginning. The best way to ensure you will remain off drugs for long-term recovery is by moving directly from detox into an inpatient rehab or outpatient treatment plan. Your care provider can help you decide what will work best for your needs.
Cognitive Behavioral Therapy
One of the most popular forms of addiction treatment, CBT focuses on modifying behaviors and thought patterns, affecting change in a person's outlook, and treating the underlying causes of addiction. This therapy modality helps people understand why they do what they do and then helps them find alternative coping mechanisms. It also treats mental disorders, including anxiety, depression, and PTSD.
Dialectical Behavioral Therapy
DBT works on the psychosocial aspects of addiction. This process will help you understand the social and emotional reasons for your substance use disorder. You will learn to replace your negative behaviors with positive actions. Mindfulness, distress tolerance, and emotional regulation are taught in DBT.
Rational Emotive Behavioral Therapy
REBT focuses on the "rational" mind, stating that there is no such thing as a good or bad situation; it only depends on how you look at it. Perception can change everything. REBT challenges patients on their own thoughts, emotions, and responses to triggers while providing healthier ways to handle difficult situations.
Dual Diagnosis Treatment
Dual diagnosis is the name for a treatment program that combines addiction treatment with mental health care. Many people who abuse drugs and alcohol do so because they are trying to cope with the distressing symptoms that come with mental health issues. Treating mental disorders alongside substance use disorders in one integrated program is more effective in breaking the cycle. The most common mental health issues associated with addiction are:
Depression
Generalized anxiety disorder
Social anxiety disorder
Panic disorder
Bipolar disorder
Post-traumatic stress disorder (PTSD)
Attention deficit disorder (ADD)
Attention deficit hyperactive disorder (ADHD)
Borderline personality disorder (BPD)
Eating disorders
Schizophrenia
Suicidal tendencies
Outpatient addiction treatment with dual diagnosis will allow you to live at home or in a sober living facility so you can see your friends and family for love and support. It will help you without sacrificing your career or education or missing out on essential obligations. You can live independently as you safely navigate your mental health and addiction treatment.
EMDR
Eye movement desensitization and reprocessing (EMDR) is a type of therapy that allows patients to reprocess psychologically disturbing or traumatizing thoughts and images into everyday memories using dual awareness techniques. The brain sometimes becomes "stuck" on specific traumatic incidents, and by using eye movements or tapping/tones guided by a therapist, you will be able to process your trauma as some parts of your brain are distracted.
Relapse Prevention
Because addiction is a lifelong disorder that can be managed but never goes away completely, it is best for everyone in recovery from a substance use disorder to know what to do when times become difficult. When you feel a relapse coming, who to contact, where to go, and having coping strategies available to you is the best way to stay on track when tempted to start using drugs or alcohol again.
Life Skills Training
Alcohol and drug use can damage your health and mental well-being and stunt your growth as an adult in society. There are so many skills we pick up along the way that may seem basic to many people, but if you missed out on learning them due to substance abuse, it might feel out of reach. With life skills training, you will get caught up on the basics, teaching personal hygiene practices, cooking and cleaning for yourself, and managing a budget to live independently after rehab.
Vocational Training
Financial independence comes from getting a job and becoming a reliable employee. Substance use disorders could become a barrier to employment, as many people likely have not made career choices their number one priority if drugs were involved. A vocational training program will teach you to create a resume, find a job, and practice interviewing to become self-reliant. A bonus to getting a job is that along with making your own money, you will have a more structured day filled with purpose, and you will be able to practice social skills and create opportunities to make new friends.
Group Therapy
The term 'group therapy' encompasses a wide range of programs. The one thing they have in common is they have a group of patients who get together to work on a specific issue or discuss a particular topic or theme. Group therapy allows therapists to address multiple patients at once to spread information and ensure everybody understands.
It provides a supportive environment with empathetic peers with whom you can brainstorm and learn new perspectives and strategies. You will also work on your communication skills through talking and listening and gain new social skills by empathizing, brainstorming, working together, and supporting others.
Group therapy can also help you realize that you are not alone in your struggles, and there are people out there who get where you are coming from, even when it comes to drug use, alcohol addiction, and mental illness.
Experiential Therapy
As the name suggests, experiential therapy involves an experience (like creating art, listening to music, going outdoors, working with animals, etc.) as you talk about past trauma as guided by a therapist. It will help you reframe your emotions as you experience positive or neutral experiences while talking about deep or disturbing thoughts and issues, as perception determines behavior.
One on One Therapy
This type of therapy is usually shown on TV shows with the patient lying on a couch as their therapist asks questions and takes notes. In reality, one-on-one therapy, or talk therapy, is when you get together and talk with your therapists about things that are bothering you, feelings of unhappiness, or aspects that are overwhelming and interfering in your normal life. You and your therapist will have a conversation and help you figure out the causes of your addiction, giving you coping skills that will help you improve your quality of life and reduce stress as you recover from addiction.
Family Therapy
Family therapy is different for every family, depending on your needs and issues. It will help your family work through trust issues, guilt and shame, problematic behaviors, and stressful situations. You will improve communication, work on problematic habits and behaviors like codependency and enablement, strengthen your bonds, and heal old wounds together. Your loved ones may also use family therapy to learn more about your addiction and how best to help you recover.
Trauma-Informed Therapy
Trauma-informed therapy means that all caregivers know how to recognize the signs of trauma and how to handle it. This involves practices like:
Open communication and transparent decision making
Answering all your questions thoroughly
Patient empowerment and collaboration
Building and maintaining trust
Obtaining your consent before moving forward in any treatment
Physical Fitness
Exercise is good for your self-esteem, health, and mental well-being. Establishing a routine at the gym, joining fitness clubs or classes, or joining a sports team will also structure your days, distract you from drug cravings or unhealthy urges, and put you in a position to meet new people.
Off-Site Activities
The days in rehab can be a lot. There is introspection, hard work, and plenty of emotional pain to work through daily, and sometimes a person needs a change of pace. If you are in rehab, an off-site activity in a sober place like a nature spot, a local attraction, or a sober gathering may be just what you need to refresh your spirit and give you the fun routine change you need.
Holistic Addiction Treatment in New Jersey
Therapy does not always involve talking about addiction. There are holistic treatments available for substance abuse to help you manage stress, release toxins, regain physical strength, regain your spiritual grounding, build a mind-body connection, and gain a deeper understanding of yourself as a whole person.
Anxiety Disorder
Common anxiety disorders include generalized anxiety disorder, panic disorder, phobias, and social anxiety. These disorders go beyond normal worrying, with fear and distress, intrusive thoughts, or panic attacks. Symptoms include dizziness, shaking, trouble concentrating, insomnia, nausea, irritability, dread, rapid heart rate, and anticipating the worst possible outcome.
Bipolar Disorder
People with bipolar disorder used to be called "manic depressive" because there are two distinct types of episodes that occur: mania and depressive episodes. When a person is manic, they may feel jumpy, with high energy, racing thoughts, and a sense of euphoria. They experience insomnia, get agitated quickly, and tend to make grandiose plans. When they are in a depressive episode, the mood may change to sad or hopeless with little energy, restlessness, forgetfulness, sleep issues, and suicidal thoughts.
Borderline Personality Disorder
BPD affects how a person feels about themselves and others, determining how they act and feel. Symptoms include fear of abandonment, mood swings, shifting identity, self-harm, unstable relationships, and impulsive, self-destructive behavior.
Codependency
Codependency happens when two people with dysfunctional personality traits get together, with one person relying on the other to meet all of their emotional needs. It can also involve one person enabling the other's irresponsible behaviors. Symptoms include little or no set boundaries, low self-esteem, control issues, caretaking of others but not themselves, poor communication skills, and denial—codependency results in painful emotions and stress.
Depression
Clinical depression interrupts daily life with emotional lows, prolonged feelings of hopelessness, and loss of interest in activities. Other symptoms include low energy, helplessness, difficulty concentrating, self-loathing, dangerous behavior, angry outbursts, changes in appetite and sleep patterns, and suicidal thoughts.
Impulse Control Disorder
Common impulse control disorders are pyromania (setting fires), kleptomania (uncontrollably stealing), intermittent explosive disorder (angry outbursts), and oppositional defiant disorder (challenging authority figures). This disorder goes beyond acting impulsively once in a while, and it is when a person cannot resist allowing certain behaviors to take over. They may have trouble concentrating, become agitated, display low self-esteem or anxiety, and be socially withdrawn.
Post-Traumatic Stress Disorder
PTSD includes intrusive thoughts, avoidance, reactivity, and negative thoughts or mood. It comes from experiencing or being part of a traumatic event, experiencing stress and fear from the body's fight or flight response, even when they are not in danger. Symptoms begin three or more months after the initial event took place.
Why Choose Quantum Behavioral Health?
If you or a loved one struggles with substance abuse or has an addiction to drugs or alcohol, Quantum Behavioral Health has the addiction treatment programs to help. We know every person who comes in for treatment is a unique individual, not "just another addict." We will treat you as a whole person, helping you stop substance abuse while simultaneously healing the underlying causes of addiction and treating the behavioral, emotional, and social aspects of addiction. We treat alcohol addiction, drug addiction, and dual diagnosis for co-occurring mental health conditions.
We are the best detox and rehab center in New Jersey for addiction treatment because we offer outpatient rehab, partial care programs, and intensive outpatient programs. These plans are run by caring medical providers, therapists, and other experts in their field, putting your individual needs first. We believe combining evidence-based treatments with holistic care and alternative options for substance use disorders can help our patients achieve long-term sobriety.
At Quantum Behavioral Health, we have accredited and experienced staff through all levels of care who genuinely want to help you heal and grow as a person while you recover from substance abuse. Our facility is welcoming and secure, and we provide the consistent treatment you can count on with as much family and couples involvement as you want.
We make it easy to get into treatment. Choosing Quantum Behavioral health for your addiction treatment will provide you with customized and individualized outpatient treatment plans after detox and/or inpatient rehab that is comprehensive, giving you the care you need at our affordable and highly rated care facility.
Through our integrated treatment modalities, we can help you stop substance misuse once and for all as you return to your everyday responsibilities.